Looking for a flavorful nutritious dish for your next summertime gathering?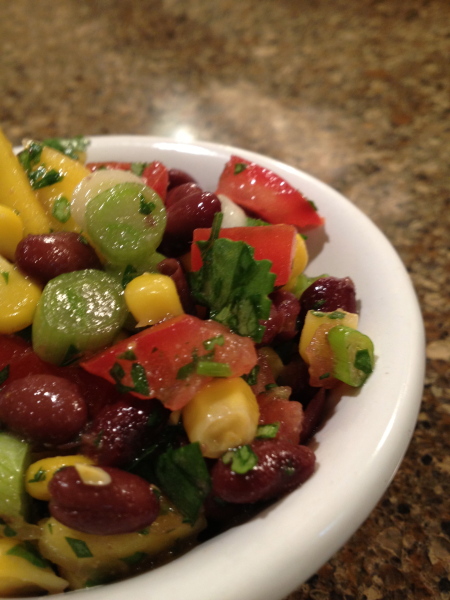 This Black Bean Salsa recipe is always a hit! It is very versatile and appeals to all generations. It can be served with organic corn chips (always non-GMO) and your favorite refreshing beverage. Or, choose to serve it on a bed of greens topped with avocados or fresh guacamole. You may also choose to serve it in a tortilla or in hard shell tacos topped off with fresh chopped organic spinach. (We use chopped spinach as a dairy free option as it offers a buttery smooth texture to many dishes.) Plus, we always advocate getting more greens in your diet.
BEANS
3 15 ounce cans black beans, drained and rinsed
2 cups frozen organic corn kernels, thawed
2 cups fresh tomatoes
3/4 cup sliced scallions
1 cup chopped fresh cilantro
1 fresh mango, chopped
1 jalapeno pepper, seeded and chopped (optional)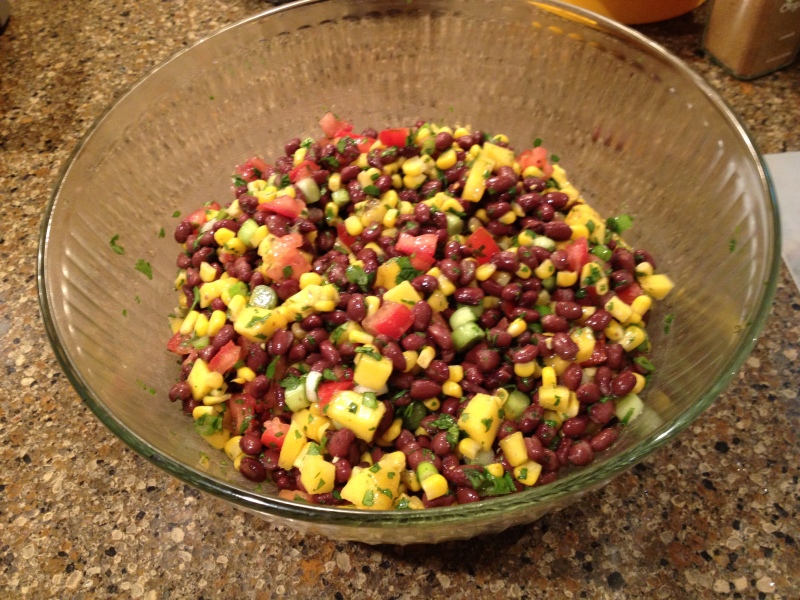 VINAIGRETTE
1/3 cup extra virgin olive oil
1/2 fresh squeezed lime juice
2 tsp. Sea or Himalayan salt
1 heaping tsp. cumin

GARNISH
Cilantro sprigs
Lime slices
FOR THE BEANS,
combine the beans, corn, tomatoes, scallions, cilantro, chopped mango, and jalapeno pepper (optional) in a bowl and mix well.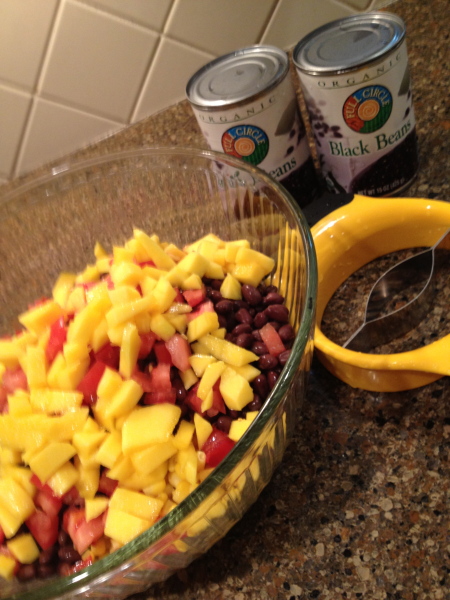 A handy kitchen tool for slicing mangos is a mango slicer (pictured above). We struggled with trying to figure out how to effectively slice a mango before discovering this handy tool. If you would like to buy one it can be purchased at your local kitchen supply store.
Black beans are a nutrient dense food and are a good source for health promoting soluble fiber.
FOR THE VINAIGRETTE,
whisk together the extra virgin olive oil, lime juice, salt, and cumin in a small bowl.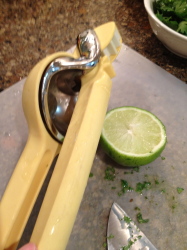 Extra Virgin Olive Oil is derived from the first pressing of the olives and has the most delicate flavor and strongest overall health benefits. Look for first cold pressed organic olive oil at your local grocery store.
Another useful kitchen tool is a hand juice presser (pictured above). It's great for many types of citrus fruits.
TO ASSEMBLE,
pour the vinaigrette over the bean mixture and toss to combine. Garnish with fresh cilantro sprigs and lime slices. Delicious served at room temperature or chilled.

ENJOY!
Eull's Health Coaching
Serving and supporting individuals to live life to the fullest through healthy lifestyle and nutritional choices!
Calvin Eull INHC, AADP
Sue Eull INHC, AADP